Destinations Around The World For Mountaineering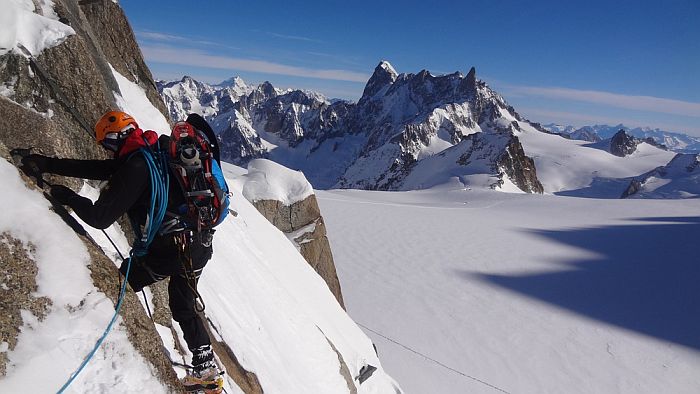 If you want to challenge your limits and want to explore your adventurous side, then mountaineering is the best activity you can indulge in. It is one of the fastest growing sports, thanks to the adrenaline rush it brings with itself. It also helps in keeping the physical and mental health to a positive level. While taking this journey, you will be exposed to several beautiful destinations that you won't be able to let go off. The rewarding experience is full of ups and down. It needs a lot of energy and commitment to climb up the mountain and reach the peak.
Here is a list of most exciting mountaineering destinations around the world-
1. Mount Khuiten, Mongolia
Located in the centre of Mongolia, Mount Khuiten sits aside the corners of Russia, China, and Mongolia. It is challenging to reach the mountain as it is present in the remote part of the country. One has to cross barren and vast landscapes to reach their destination. All the more, the journey can be extremely long and relatively steep, so it is advisable to carry light and only the absolute necessities for you.
2. Kilimanjaro, Tanzania
The highest mountain in Africa, Kilimanjaro has a flat top, and it's located in Tanzania on its northern border. The mountain is formed out of volcanic eruptions of three non-active volcanos – Kibo, Mawenzi, and Shira, which can be seen during the climb. You can see the region's beautiful animals and birds while hiking up the Machame Route. The highest peak of this mountain is Uhuru, which is 19,340 feet (5,899 meters) tall.
3. Mount Everest, Nepal
The highest mountain on Earth, the Everest is 29,035 feet (8,856 meters) above sea level. It is located between Tibet and Nepal. Reaching the top of this mountain has been considered as one of the most significant mountaineering achievements. Every year, the Everest is visited by a vast number of climbers with various experience level. Getting to the top of this mountain is a massive task due to the adverse weather condition and excessive height.
4. The Matterhorn, Switzerland
Located in the Swiss Alps, the Matterhorn is one of the most recognised mountains in the world. The mountain flaunts the shape of a chiselled rock pyramid, which makes it a defining geographical landmark. There are several routes that a climber can take to reach the peak of this mountain.
5. Mount Elbrus, Russia
Mount Elbrus is Europe's tallest mountain. The mountain is dynamic in both region and terrain and stands as a watchtower between Europe and Asia. Elbrus is perfect for both ambitious beginners and climbers with moderate skills. The climb on this colossal mountain is strenuous, yet rewarding. Your journey begins by taking a ride on the Soviet-era cable car, which will carry you to 12,500 feet in elevation. From this point, you can start your climb.
6. Mount Huang, China
Located in eastern China, Mount Huang is famous for its beautiful scenery, granite peaks, memorable sunsets and cloud views. The mountain often gets painted with traditional Chinese art, which makes it a point of attraction for photographers. If you love hiking and photography, then you should visit this mountain for unlimited fun and beautiful pictures.
7. Mount McKinley, North America
Mount McKinley is the tallest peak in entire North America. The mountain is surrounded by several ice falls and five massive glaciers. It is one of the toughest peaks to climb, and it needs a thoroughly planned expedition to reach the top. The weather is extremely severe, which causes severe significant issues while climbing.
No doubt, mountaineering is quite exciting and adventurous. But it is rightly said that it's better to be safe than sorry. Anything can go wrong anytime while you are up on the rocks. So, it is advisable to take a travel insurance policy while you fly abroad. A travel insurance plan takes care of any mishap that could happen while you are exploring the beauty of the mountains.