Check in process at the airport for international flights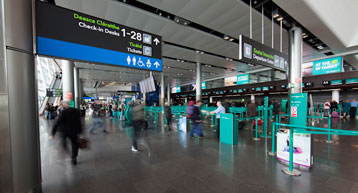 Travelling by air is one of the most enthralling experiences. The fact that you are flying miles above the ground in a metal tube through the sea of cotton-like clouds is dreamlike. An airplane is the most exquisite marvels of human engineering, which has made exploring the world more accessible than ever. So, if you have decided to visit your dream destination anytime soon, you will have to go through these simple steps at the airport to clear the security checks and board your flight.
The process of checking-in in an international flight works the same as a domestic flight. You have to arrive at the airport 2-3 hours before your boarding time. Keep your essential documents like ID, passport, visa, and boarding pass handy as you may need them at the security checkpoints. If you are travelling to the U.S., then you may present the documents and clear the customs and immigration before getting on the plan.
Here is a detailed guide to airport procedures for international flyers-
Check-In
Having the flight ticket isn't enough to board the plane. You need to go through the check-in process to get the boarding pass. The boarding pass includes your seat number, departure time and gate number.
You can either check-in online or manually at the airport ticket counter or self-service kiosk. You can check-in within 24 hours of your flight time. When you check-in online you get the seat arrangements and a boarding pass through email. You can either get the boarding pass printed or have it on your mobile phone.
At the ticket counter, you can get your luggage checked-in. Hand the luggage to the ground-handling staff for tagging. Note: don't leave your bags unattended, and keep your luggage light and within the standard weight limit.
Security Check
To move further and get to your departure get, you will have to go through a security check. Keep your ID handy along with your boarding pass to clear this process. For electronic screen, place your carry-on luggage, metallic objects, and electronic items in the tray. If you have a metallic piece in your body, you should keep a doctor's certificate in hand to clear the security check. Collect the screen item and proceed towards the Immigration and Customs section.
Immigration and Customs 
When flying abroad, you are subjected to Immigration and Customs check during both Arrivals and Departures. It is advised to keep your essential documents like ID, Visa, and passport handy to present them during the check. You will also have to state the reason of your trip at this stage.
Ensure that you are not carrying anything illegal or banned with you. You can even contact the airline staff for further clarity. You should also check the limit of cash you can take to the country you are flying to. Few countries have a rule on having some local currency on arrival. You are advised to thoroughly read the related guidelines before embarking on your journey to make it a hassle-free one.
Once you have passed through the immigration and customs section, all you have to do is wait for the final announcement. During this time, you can explore the airport or sit in the lounge and enjoy your favourite cup of joy. Remember, boarding closes 10–20 minutes before departure. Late passengers are called at least twice before closing the flight. However, no one is entertained after the plane is closed finally.
We are sure you are smart enough to insure your international trip with a comprehensive travel insurance plan. Having a travel insurance plan is imperative if you want to have a safe and peaceful holiday. What are you waiting for? Insure your trip within seconds without any paperwork. Happy holidays!